---
---
---
خذ بقدر ما تستطيع أن تستهلك! لا ترمي خبزك في سلة المهملات!

Tüketebileceğin Kadar Al! Ekmeğini Çöpe Atma!

Take as much as you can consume! Don't throw your bread in the trash!
---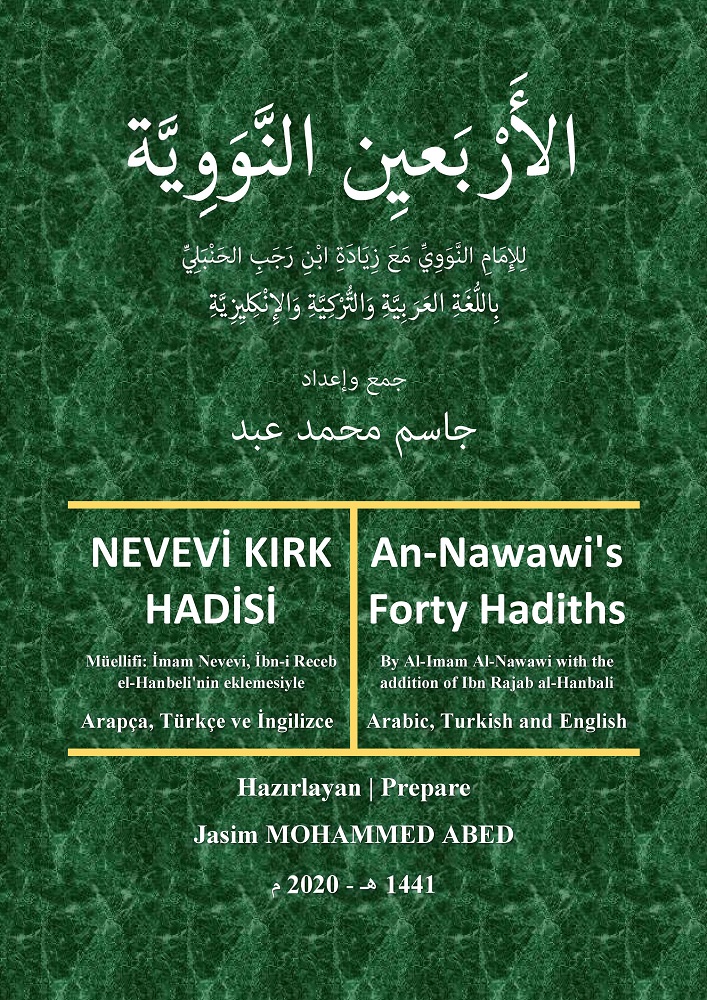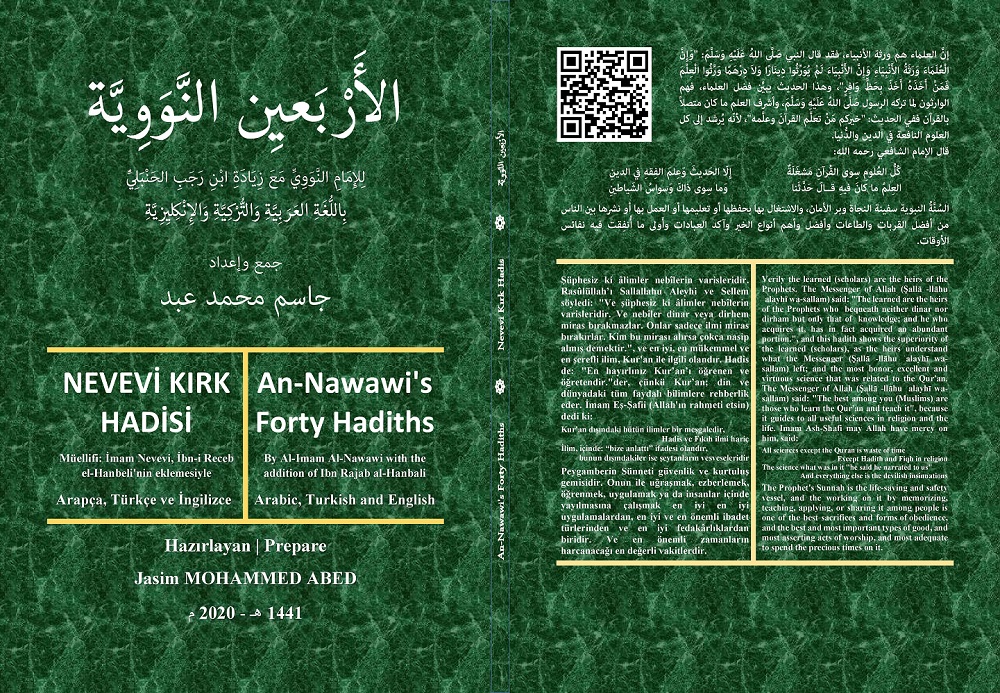 غلاف الكتاب بدقة: 300 dpi x 6.35 MB
"الأَرْبَعُونَ فِي مَبَانِي الإسِلَامِ وَقَوَاعِدِ الأَحكَامِ" المشهورة بــ "الأَرْبَعيِن النَّوَوِيَّة"
لِلإِمَامِ أَبي زَكَرِيَّا، يَحْيَى بْنِ شَرَفِ النَّوَوِيِّ الشَّافِعِيِّ 631 - 676 هـ مَعَ زِيَادَةِ ابْنِ رَجَبِ الحَنْبَلِيِّ 736 - 795 هـ
بِاللُّغَةِ العَرَبِيَّةِ وَالتُّرْكِيَّةِ وَالإِنْكِليِزِيَّةِ
جمع وإعداد: جاسم محمد عبد
عدد الصفحات: 120 صفحة
نوع الملفات: PDF + نصّي (وورد word).
حجم الملفات:
PDF: 1.34 ميجا بايت.
نصّي (وورد word): 258 كيلو بايت.
روابط التحميل:
---
"İslamın Temelinde ve Ahkam Kurallarında Kırk Hadis"
"NEVEVİ KIRK HADİSİ" olarak bilinir
Müellifi: İmam Nevevi, İbn-i Receb el-Hanbeli'nin eklemesiyle
Arapça, Türkçe ve İngilizce
Hazırlayan: Jasim MOHAMMED ABED
İndir:
---
"The Forty in the Buildings of Islam and the Rules of Judgments"
Which is famous as "An-Nawawi's Forty Hadiths"
By Al-Imam Al-Nawawi with the addition of Ibn Rajab al-Hanbali
Arabic, Turkish and English
Prepare: Jasim MOHAMMED ABED
Download:
1441 هـ - 2020 م
---
المهندس: جاسم محمد عبد.
من مواليد العراق - بغداد.
حاصل على شهادة البكالوريوس في الهندسة الالكترونية والاتصالات - جامعة بغداد.
يعمل في مجال تصميم المواقع والصفحات الالكترونية متعددة اللغات وأنظمة إدارة المحتوى.
معلّم للغة العربية لغير الناطقين بها.
---
Mühendis: Jasim MOHAMMED ABED
Irak'ta doğdu - Bağdat.
Elektronik ve Haberleşme Mühendisliği lisans derecesine sahiptir - Bağdat Üniversitesi.
Web tasarımı, çok dilli sayfalar ve içerik yönetim sistemleri alanlarında çalışmaktadır.
Anadili olmayanlar için Arapça öğretmeni.
---
Engineer: Jasim MOHAMMED ABED
Born in Iraq - Baghdad.
He holds a Bachelor's degree in Electronic and Communications Engineering - University of Baghdad.
He works in the field of web design, multilingual pages and content management systems.
Teacher of the Arabic language for non-native speakers.
---
غفر الله لنا ولكل من ساهم معنا في هذا العمل ولآبائنا وأمهاتنا وأزواجنا وذرياتنا، ولجميع المؤمنين والمؤمنات، والمســــلمين والمسلمات الأحياء منهم والأموات ...
شكر خاص للأخ الفاضل سداد آرسلان [Sedat ARSLAN] ...
---
حقوق الطبع والنشر لكل مسلم
Basım ve yayın hakkı her müslümana serbesttir
Copyrights for each Muslim
---
---
---
---
---
---